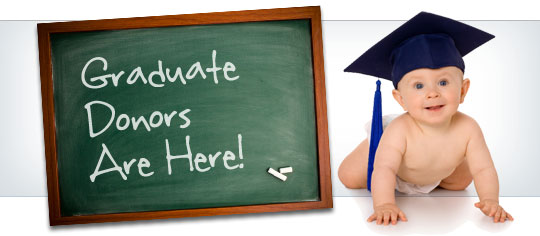 Looking for a scholastic superstar donor? Check out CCB's Graduate Donors!
Did you know all California Cryobank donors are required to be a current student or graduate from a 4-year university – with most being recruited from top schools including Harvard, MIT, Stanford, and UCLA? In fact, dozens of California Cryobank donors have gone well beyond their undergraduate studies in pursuit of their Master's Degree or PhD.
While some sperm banks charge extra for donors with advanced degrees, CCB does not. Why? Because we believe our job is to use strict health, genetic, and family history screenings to find the donors that provide our clients with the best possible chance at a successful, healthy pregnancy. Once a donor has passed our rigorous screening process, we let you prioritize whatever additional outstanding characteristics he has to offer. The only additional attributes that matter to us are the ones that matter to you -- whether it is a super scholar, a magnificent musician, an astounding athlete, or an amazing artist you are looking for in a donor.
Start Searching
Your ideal donor is just a click away. Start your personal donor search right now!
Register
FREE registration takes less than 5 minutes and provides access to extended donor profiles as well as other valuable CCB services.
Returning Users